Happy Birthday Mr Quarantino Short Film World Premiere at CGIFF
Congratulations to "Happy Birthday Mr Quarantino" Cast & Crew!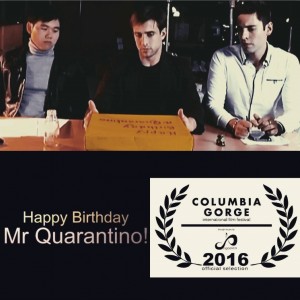 "Happy Birthday Mr Quarantino", short film written, produced and directed by Shailla Quadra, its official selection
at the Columbia Gorge International Film Festival 2016!
Thank you so much everybody at the CGIFF for supporting indie films!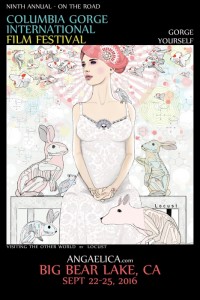 HBMQ Premiere Screening information:
2016 CGIFF @ BIG BEAR LAKE, CA
Date: Friday 23rd September 2016
Time: 2:30PM
Location: Big Bear Lake Performing Arts Center
Check out entire film festival program, choose your favorite sessions, and if you're in California,
Register at their official website to RSVP for your FREE Festival Credentials!
Just Register at the bottom of this page: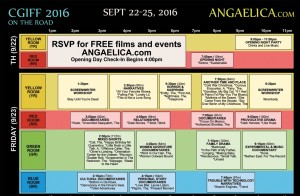 HAPPY BIRTHDAY MR QUARANTINO
Synopsis: How to get a role in a Quarantino Movie!
"HBMQ" CAST:
Shailla Quadra, Matt Oxley, Franck Bossi, Chase Lee.
"HBMQ" CREW:
DOP: HECTOR MARQUEZ
GAFFER: FAWAZ HAMAWY
SOUND: FAWAZ HAMAWY
EDITING: SHAILLA QUADRA
MUSIC: DJ DOIDO
Written, Produced and Directed by Shailla Quadra
an UNSTOPPABLE PRODUCTIONS production
LOCATION THANK YOU:
RUM FIRE Restaurant at the Entertainment Quarter